SUMMER 2023
Registration for Summer 2023 is now open!
Download our Asbury Hills app to receive updates and notifications.
Strive
Don't let anyone look down on you because you are young, but set an example for the believers in speech, in conduct, in love, in faith and in purity.
–1 Timothy 4:12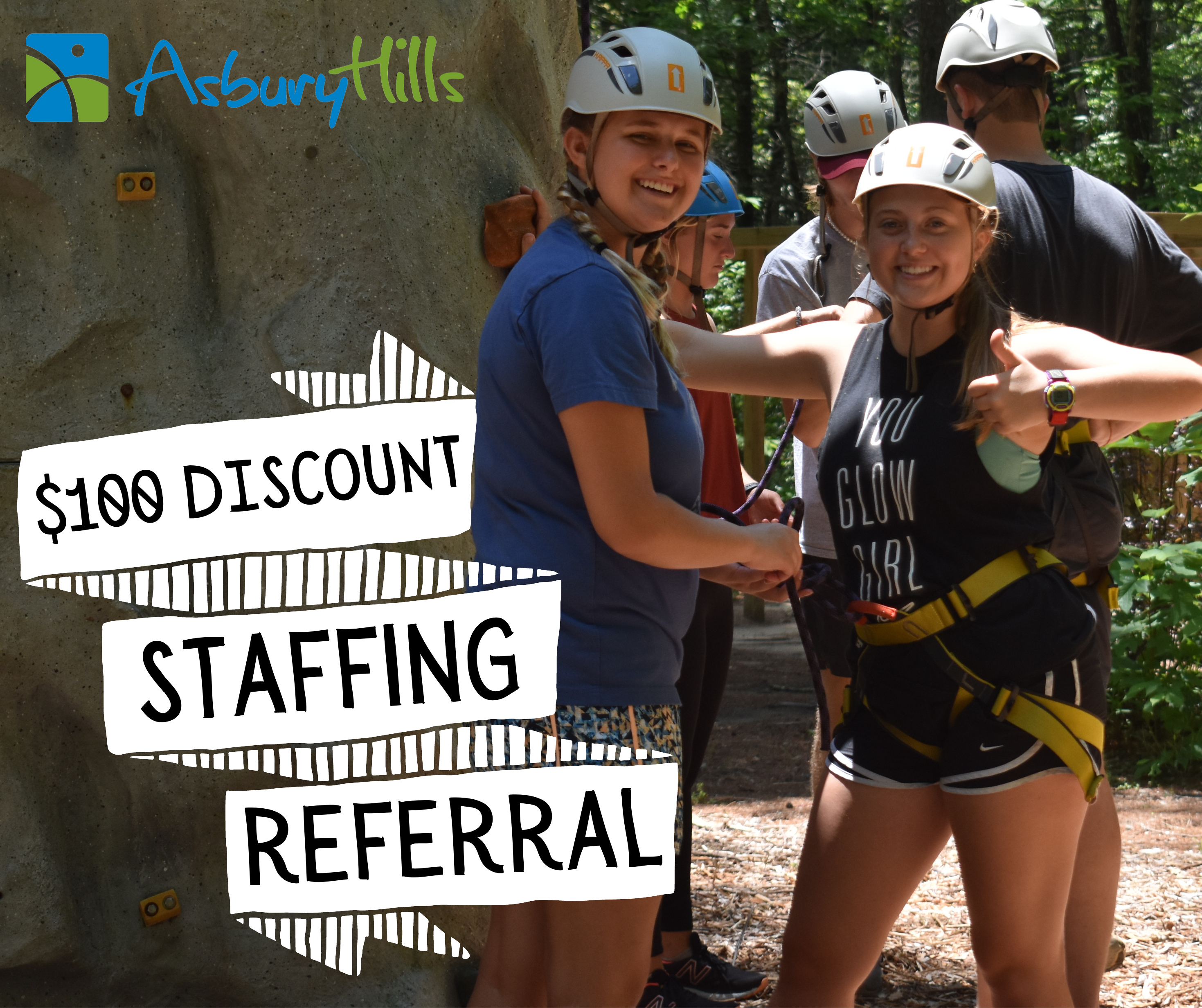 Parents— are you interested in a discount on your camper's session?! We are hiring for Summer 2023 and due to the staffing shortage, we have 100 campers on waitlists! If you refer someone 18+ to work at Asbury Hills and they complete the training process, you'll receive $100 off of your camper's tuition!*
*The potential staff member must note your name as the referral on their staff application and you must email summer [email protected] to confirm the referral and receive the discount (or a $100 refund for sessions that have been paid in full).
Why Asbury Hills?
Summer camp at Asbury Hills is all about fun, faith, and fellowship. Our campers:
Form new friendships with cabinmates and counselors
Participate in a variety of age-appropriate activities
Deepen faith with small-group devotions
Experience powerful worship led by our worship team
Because of these things, we see powerful results in our campers each summer.
96% grew in their relationship with Christ.
98% tried something new.
98% want to tell others what they learned at camp.
96% learned something new about faith.
A Day in the Life of a Camper
8:00am – Breakfast

9:00am – Morning Worship, Small Group Discussions, and Activities

12:00pm – Lunch

1:00pm – Activity Time

5:45pm – Dinner

6:30pm – Activities and Games with the Entire Camp

8:00pm – Evening Worship

9:00pm – Cabin Devotions
Sample Schedules
These sample schedules are to give folks an idea of what a general week of camp could look like. While we cannot guarantee every activity for every camper, we do our best to fill schedules with as many as possible.
Summer Camp Activities
At Asbury Hills, we have more activities than will fit in a week! Some activities are offered for all ages and others are age specific.
We believe in "Challenge by Choice", which allows campers to participate in programs and activities within their own comfort zone. Staff encourage campers to try new experiences and create a community of care where campers are able to take risks safely and at their own pace.